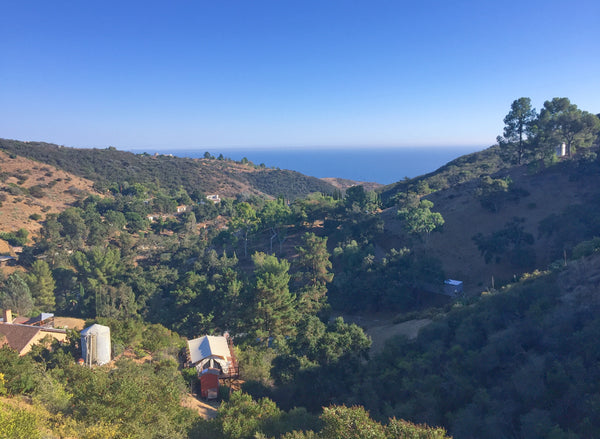 Join us for a day of natural dyeing on Malibu Orchards!
Over the course of our day we will identify and forage local dye plants, dye fabric with plants from the area and experiment with shibori, a traditional Japanese art of resist-dyeing.
Come fine tune your knowledge or naturally dye with us for the first time! We invite you to get away from the city and explore the world of natural dyes in a serene environment.
Malibu Orchards is nestled in the hills of Malibu, California. It's two miles from the ocean and boasts creative accommodations designed by interior design author, Bibi Jordan.
When: 10:30am-3:30pm, Saturday November 4th
What you will experience:
sustainable foraging techniques
forage onsite from plants
dye fabric with local plants
resist dye techniques inspired by shibori
What you will take home:
a ready made dye kit with your foraged material, and a ready to dye silk bracelet
a silk scarf that you've naturally dyed with local plants
What is provided:
silk scarf, natural dye kit & raw silk bracelet, drinks & snacks
What to bring or wear:
gardening gloves, hiking boots or closed toe walking shoes, sun hat, sunscreen, water bottle, paper bag
Bring your own picnic lunch OR for an additional $25 enjoy an organic home-cooked lunch sourced from the Malibu Orchard farm and local farms through our farm host Bibi Jordan.
Terms and Conditions:
The workshop is limited to 15 participants so make sure to reserve your spot soon. 
Please make sure to enter your email contact when prompted at checkout. After your reservation you will receive an email with the workshop location and any other pertinent details. If we don't have your email, we can't send you information regarding the workshop.
If the minimum number of workshop participants is not met, we will need to cancel the workshop and you will be given notice at least 72 hours before the workshop and fully refunded.
Due to preparations that must be made in advance of the workshop, unfortunately cancellations can't be refunded if made within 2 weeks of the workshop date. If you have extenuating circumstances outside of your control, please let us know.